With the bewitching season of Halloween approaching, it is exciting to create one-of-a-kind projects that will thrill every Halloween enthusiast. Halloween is all about horror, haunted houses, scary movies, and creepy costumes! You can create the wow factor by utilizing cheaper, lightweight, and weatherproof materials such as EPS foam to produce these eye-catching projects. EPS foam can be worked in many ways such as sandblasted, routed, hand, or machine-carved to look like wood grain, pebbled, smooth, and even stone. Read ahead to learn how your foam Halloween props and displays can stand out in a crowd this Halloween season!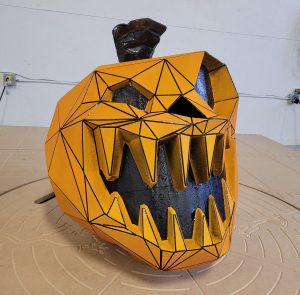 1. Benefits Of Using EPS
Foam For Halloween Displays
EPS stands for Expanded Polystyrene foam, which is a lightweight, rigid, cellular plastic material that is commonly utilized in packaging industries, architecture and construction, mold-making, rapid prototyping, scenic design, precast concrete, and sculptural fabrication among many other applications. 
Using foam for Halloween displays can offer many advantages which makes this material a popular choice for creating spooky and unique decorations. EPS foam comes in a variety of densities and types, and the appropriate type will vary based on the level of detail and strength required in the part. The following are some advantages of using foam for creating Halloween displays and props:
Easy to carve: It is easy to carve and shape foam with a combination of hot wire cutters and CNC routes. This ease of use enables you to create complex and detailed designs out of foam such as tombstones, pumpkins, spooky creatures, or other Halloween-inspired designs and ideas, quickly and easily.

Versatility: Foam in various densities can be utilized to create a wide range of Halloween-themed decorations such as tombstones, haunted houses, and costume accessories. Combining the capabilities of the hot wire cutter and CNC router in tandem, allows the user a quick and efficient way of processing various materials.
Lightweight: It is possible to create large and elaborate designs without heavy materials such as wood or metal. Foam is lightweight and easy to handle which makes it a practical choice for crafting a range of Halloween decorations. Some other foam types such as HDU provide higher levels of achievable detail, but come at a higher price point, and added weight. 
Affordability:  EPS foam is generally cost-effective when compared to some other materials utilized in making Halloween decorations such as wood or metal. Foam allows for the production of larger-than-life and impressive displays while maintaining a budget.
Durability: Foam may be sealed with specific coatings to make it weather-resistant and this feature allows your Halloween props and decorations to withstand the elements and last for many seasons, whether they're placed inside or exposed to outdoor conditions.
Suitable for painting: EPS foam can be painted with water-based paint, so it is possible to customize Halloween decorations with unique colours and spooky details. We always recommend coating the foam prior to painting to ensure a beautiful and long-lasting finish. The ability to paint your Halloween props in tandem with the high level of detail achievable with our CNC router makes foam an ideal choice for producing realistic effects.
2. Using CNC Machines To Make
Foam Halloween Props
When using CNC (Computer Numerical Control) equipment to produce foam Halloween props, there are several advantages that can make the process of making props more efficient, precise, and versatile. The following are some benefits of using CNC machines and equipment for creating Halloween-themed props:
Precision and accuracy: CNC equipment can follow computer-generated design files accurately to produce intricate and detailed foam props. This level of precision can be a challenge to achieve manually where there is always room for human error. Using CNC equipment will ensure that your Halloween props are created the way you intended in your designs.

Intricate and complex shapes: CNC machines can easily cut, carve, and shape foam into complex designs. Whether you are creating witty tombstones, spooky creatures, or other detailed props, CNC equipment can take on any project and bring your designs to life.

Replicability: It is possible to produce consistent and multiple identical props with the use of CNC equipment that can be useful when multiple props are required for a haunted house theme or large-scale Halloween display. 
Time-saving: CNC machines work fast and efficiently, thus reducing the time required to produce foam Halloween props when compared to manual methods. This allows for faster completion of Halloween decorations, and frees up the hands of the artist so they can focus on manual tasks.
Customization: CNC equipment enables easy customization, and it is possible to modify and adjust your design files to construct one-of-a-kind and personalized foam Halloween props tailored to your specific ideas. Unlike hand carving, working with automation allows the designer to make changes before the physical product is created, saving time and resources.
Resource efficiency: CNC machines can optimize foam material usage and minimize waste which translates into cost-effectiveness.

Scalability: Whether it's a single prop that you are making or a large quantity of designs, the proper CNC equipment can tackle any scale of production. This ensures flexibility in your projects, and the ability to produce unique Halloween-themed ideas and designs regardless of the scope and scale of the project. 
Future Proof: It is possible to save the CNC program files for later use, and if you plan to use identical designs for future Halloween displays or props, you will be able to easily recreate props in later years with the saved CNC program files, or quickly make modifications to the digital files to change things up a bit.
The right CNC equipment can give your Halloween foam props a professional and superior appearance. CNC equipment can offer several advantages for creating foam Halloween props and displays for your store or for your customers. It is crucial to have access to the required machinery, design skills,software, and training to achieve perfect end results. The FROG3D® System offers advanced 3D fabrication capabilities for your production requirements and gives you the tools to work bigger, better, and faster. With cutting-edge technology, commercial-grade construction, and industry-leading training and support, Streamline Automation's FROG3D® System closes the gap between your creative process and production requirements.
From preliminary design to completed project, our equipment provides intelligent and intuitive solutions for every step of the fabrication process. The fully integrated range of our FROG3D® System includes 3D scanning, digital modelling, hot wire foam cutting, 3D CNC milling, and protective coating application products that have been specifically engineered for your distinct fabrication requirements.
With the FROGScan™ Flash-Peel 3, it is possible to translate any physical object into an accurate 3D scan that can be perfectly replicated or enlarged digitally. By utilizing advanced white light technology, the FROGScan™ Flash – Peel 3 is able to capture a digital 3D scan in a matter of seconds – and in full colour! It is a standalone and portable solution that can be conveniently transported and set up when and where it is required.
The FROGScan™ Flash – Peel 3 can capture the surface geometry of an organic object, allowing the product to be much more authentic than a digitally designed product. Having a handheld scanning device allows flexibility and ease of access and it can also help to collect environmental data of the intended design to ensure the resulting project will fit naturally with the surroundings. This can be an essential tool in the design process as it helps ensure that the additions can fit sensibly and mount correctly.
Our advanced CNC hot wire foam cutting machine prepares foam for detailed milling or to create stunning final products including foam Halloween props and displays. Our FROGWire™ cutting machine offers an easy-to-use controller system to monitor and guide the hot wire cutting process. Files that contain 2D or 3D model designs can be imported directly to the industrial-grade G-code-based controller which provides the machine with the toolpath automatically.
The FROGWire™ can also be arranged with two wires and this allows for immediate double throughput. In addition, the FROGWire™ has multi-axis capabilities and a rotational axis. This multidimensional design increases the complex structures available for cutting and forming and enables the FRO3D® system to increase accuracy and minimize operation time and cost while doing so. The FROGWire™ is not only a superb option for producing 2D profiles with ease, but it is also an important tool to help you prepare materials for processing on the FROGMill™. The FROGWire™ works together with the FROGMill™ by preparing appropriately sized foam material for milling in-house, instead of having the material pre-slabbed or shaped, which reduces costs. In addition to reducing procurement costs, it also helps to minimize wastage of foam, machining time, and lead times.
If the foam Halloween prop that you want to carve is fully organic or has varying curvature to the geometry, it is recommended to utilize the FROGMill™ as it also provides a uniform surface finish without extra sanding. The FROGMill™ is the most powerful 4-axis CNC foam carving router available and combined with industrial strength, unmatched quality, and precision, the FROGMill™ will provide you with the capabilities required to produce larger and more intricate pieces. The 4th axis offers index cutting capabilities to produce full 3D carvings up to a 4' diameter and 8' length from a single piece. Mounting directly onto the FROGMill™, the 4th axis rotational capabilities will allow you to go from 'art to part' in the shortest amount of time possible. Not only does the FROGMill™'s 4-axis CNC router create production efficiencies, but it also offers the accuracy and detail required to create stunningly detailed end products.

The FROGMill™ is engineeredto work seamlessly with all other FROG3D® components which eliminates the hassles that are associated with non-integrated components. This foam carving router is used in conjunction with FROGTools™ which includes a wide range of specialized CNC router bits for foam that will offer you unmatched precision and accuracy for all your Halloween-themed creative projects.
FROGTools™ allow you to achieve the depth and precision which is necessary for carving detailed Halloween props and displays out of EPS and polyurethane foam. These tools are available in regular and tapered cutters in ball end and end mill styles. Tapered tools can improve detail and intricacy in deep cuts. Longer bits allow deeper cuts and bigger slices with fewer passes which translates to less time spent in assembly and improved productivity. 
FROGCoat™ Coatings can offer you proven coating products for your Halloween foam products and there is no need to sort through irrelevant products or work with other coatings or suppliers that are not built for your needs. If you require spray coatings, in-mold coatings, or mold-making materials for your Halloween-themed projects, FROGCoat™ can deliver the correct coating for your project without the runaround that comes with multiple suppliers. FROG3D® equipment and coatings are designed and tested together which means you have a solution from start to finish that actually works.
The FROGSkin™ is an electric spray system for applying polyurea and other protective coatings which is a superb solution for applying durable, smooth, or textured finishes to your Halloween-themed pieces. In conjunction with Streamline Automation's FROG3D® FROGCoat™ line of coatings, the FROGSkin™ can help your Halloween props and displays withstand the elements while providing a look that stands out in a crowd. FROGCoat™ coatings are waterproof and UV-stable and can withstand harsh elements such as snow and rain.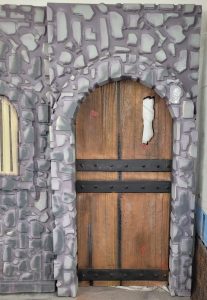 4. How To Create Foam Tombstone Displays And Dungeon Walls With Streamline Automation's

FROG3D® System



When developing a new CNC project, there are three primary stages:

1) Design: This is the initial drawing or Computer Aided Design (CAD) model.
2) Tooling: This phase involves creating the tool paths with Computer Aided Manufacturing (CAM) software.

3) Machining: This step requires running the tool paths on the machine.
4.1.
Using
FROG3D®
With Vectric Aspire Software
Vectric's Aspire is a CAM software solution for creating and cutting parts on a CNC router. When creating foam Halloween props at Streamline Automation, we use Vectric software as an important part of our service because it enables us to provide high-quality and end-to-end solutions for design and build processes. By utilizing Vectric's Aspire software, it is possible to help our customers efficiently generate or manage their designs and to see how quickly precise toolpaths can be generated to drive the FROG3D® CNC machine to route, mill, and engrave the intended results. Once the finished products are installed, the surface coating and paint make it nearly indetectable that it is all made of foam. At Streamline Automation, we have also created our own Halloween projects such as making tombstones, and these Halloween projects were fully 3D modelled and tooled in Aspire software. Halloween is a unique and fun time of year and it is a good time to display the combined capabilities of FROG3D® and Vectric Aspire.

To make tombstones out of EPS foam, begin by taking the skull clipart from the "Design & Make" library of models that are available free of charge when buying Aspire and then generate the vector outlines to map out each element. Utilizing the Aspire 3D modelling tools, generate the organic surfaces that create the models, which include vector tools to draw, trim, and join the base layout projects in addition to the extrude, spin, and rail sweeps functionality to create the tombstones. Following this, implement the 'project toolpaths to the surface' tooling function to set up the project for machining.

To draw sharp corners for the text work, we used the VCarve toolpath option which uses an engraving tool. The "Project Toolpath to 3D Model" is a useful tool because you can use text vectors to drive to toolpath, and have it form naturally on the surface of your 3D geometry without having to 3D model it. This process simplifies the method to create a template for similar work, in addition to allowing quick changes in the text, font, and scaling without making any changes to the 3D geometry design.
4.2.
FROG3D®
Equipment For Creating Eye-Catching EPS Foam Tombstone Displays And Dungeon Walls
The FROG3D® System contains all the equipment necessary to manufacture these CAM designs. We used the FROGWire™ to prepare appropriately sized blocks for machining which reduces wastage and machining time. As mentioned previously, the FROGTools™ are offered in a variety of sizes for detailed or fast machining needs, and we opted for different tool selections for different sections of the project. The FROGMill™ utilized a large, flat endmill tool for the tombstone's flat surfaces, a medium-sized ball nose tool for the organic slopes and curves, and a 90-degree VBit for the engraved text. The dungeon walls and door did not require any deep and fine details, so it was possible to approach this with a larger ball end tool and move forward into the paint booth promptly.

We used FROGSkin™ Polyurethane coating to seal and protect the foam surfaces and prepare them for painting. The FROGSkin™ is a plural component spray system that applies an atomizing material to the raw foam that can be applied in thick layers and usually hardens within a minute. It is a much quicker application than other techniques such as brush-on epoxies and resins that can take hours to cure, tend to be runny, and must be applied in multiple coats. Polyurethane coatings can save you time, especially for large props and sculptures. We used rattle cans to paint the majority of the pieces in addition to some rolling/dry brushing for highlights on the tombstones and painted directly onto the protective coating. If you are designing outdoor foam props, it is advisable to finish it with a heavy clear coat. For indoor displays, this is not necessary.
Conclusion
Create spooktacular and one-of-a-kind custom foam Halloween props this season with the ease of Streamline Automation's FROG3D® machine capabilities. Contact us today to learn how our experts can help you bring your spooky and creative ideas to life this Halloween season!