CUSTOM TAILORED MANUFACTURING SYSTEM
Harnesses the strength, power, and knowledge of FROG3D® and leverage it to design a custom fabrication solution specific to your business needs.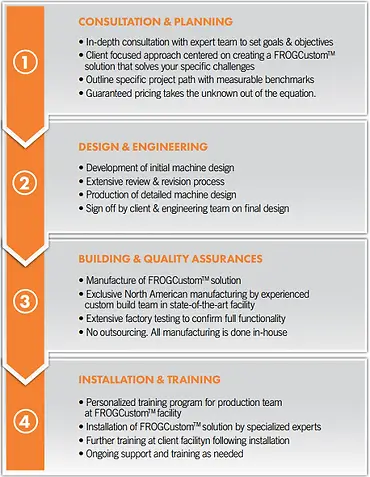 Key Features
FROGCustom™ solutions are all designed and built in-house in our state-of-the-art manufacturing facility here in North America. No outsourcing. No third-party suppliers. Maximize your production capabilities, crush your pain points, and dominate your markets with a manufacturing solution that targets your unique goals and needs.

Move forward with the confidence that comes from having an expert team that stays with you from the first consultation to the final day of training. Industry leading technology. Industry leading support. Industry leading success. Build your success with FROGCustom™.
A collaborative, client led design and manufacturing process focused on reaching the solution you want. We don't tell you. You tell us.
PMP Certified Consultation and Support
Professional planning and project management throughout the entire FROGCustom™ process. Clear benchmarks, transparent tracking and reporting, and focused objectives keep your project on track and successful.
Experienced Custom Build Engineering
Move forward with confidence knowing that the FROGCustom™ team brings over 40 years of experience in the design, engineering, and manufacture of FROGCustom™ solutions.
North American Manufacturing
All FROGCustom™ solutions are manufactured in-house in North America. Single source manufacturing from the same company that designs, engineers, trains, installs, and supports your system.
State-of-the-Art Design & Manufacturing Facility
Cutting-edge manufacturing center specializing the fabrication of custom CNC equipment.
Extensive Quality Assurance Process
Multi-stage testing process ensures full functionality prior to shipping.
Specialized On-Site Installation
Expert installation by the FROGCustom™ team to get you up and running quickly and easily.
Comprehensive Training and Support
FROG3D® products are backed with second-to-none training programs and technical support to get you up and running quickly.
SEND ME
FROG
CUSTOM™


Product Sheet