SPECIALIZED
CNC ROUTER BITS

FOR FOAM AND ALTERNATIVE MATERIALS
FROGTools™ are durable and made specifically for milling EPS and polyurethane foam, including regular and tapered cutters in ball end and end mill styles.
FROGTools™ Sheet Goods are a variety of specialized cutting tools for alternative materials such as wood, plywood, HDU, and plastics.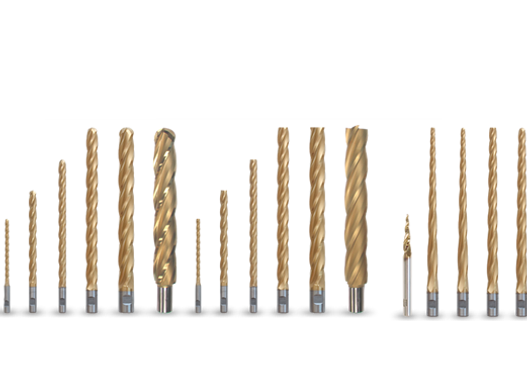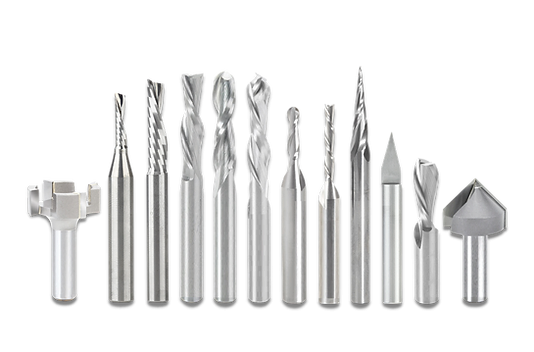 Key Features
When used with FROGMill™, FROGTools™ and FROGTools™ Sheet Goods ensure that your projects are milled with unparalleled accuracy, detail and clarity. Each standard FROGTool™ is titanium nitrate (TIN) coated to ensure the best in strength and durability. All standard sizes for common milling applications are maintained in stock and can be shipped immediately.

FROGTools™ Sheet Goods are a selection of high-quality milling tools appropriate for machining a variety of alternative materials. This set includes a variety of cutters in ball end, end mill, and engraving styles.

FROGTools™ are the only CNC foam tools that let you achieve depth and precision for foam carving applications. Tapered tools let you achieve high detail in deep cuts, improving the intricacy and detail of your products. With longer bits come deeper cuts and thicker slices with fewer passes, translating into less assembly and improved productivity. Just as importantly, FROGTools™ are designed to last, saving you the costs of constant replacement typical of lesser tools.

**ATTENTION** FROGTools™ should not exceed 6000 RPMs. Please contact Streamline Automation for more details before use.

**ATTENTION** Please note that we are more than happy to advise on FROGTools™ and FROGTools™ Sheet Goods usage when used with the FROG3D® system. We are not able to offer support for FROGTools™ and FROGTools™ Sheet Goods being used with alternative platforms.
| TYPE | SHANK | DIAMETER | CUTTING LENGTH | OVERALL LENGTH |
| --- | --- | --- | --- | --- |
| Ball End Foam Cutting Tool | 3/8" | ¼" | 4″ | 6″ |
| Ball End Foam Cutting Tool | ½" | ½" | 6″ | 8" |
| Ball End Foam Cutting Tool | ½" | ½" | 8″ | 10″ |
| Ball End Foam Cutting Tool | ¾" | ¾" | 10″ | 12″ |
| Ball End Foam Cutting Tool | 1" | 1" | 10″ | 12″ |
| Ball End Foam Cutting Tool | 1" | 1 ½" | 10″ | 12″ |
| End Mill Foam Cutting Tool | 3/8″ | ¼" | 4″ | 6″ |
| End Mill Foam Cutting Tool | ½" | ½" | 6″ | 8″ |
| End Mill Foam Cutting Tool | ½" | ½" | 8″ | 10″ |
| End Mill Foam Cutting Tool | ¾" | ¾" | 10″ | 12″ |
| End Mill Foam Cutting Tool | 1" | 1" | 10″ | 12″ |
| End Mill Foam Cutting Tool | 1" | 1 ½" | 10″ | 12″ |
| Ball End Tapered Foam Cutting Tool | ½" | 1/8″ | 2″ | 6″ |
| Ball End Tapered Foam Cutting Tool | ¾" | ¼" | 10″ | 12″ |
| Ball End Tapered Foam Cutting Tool | ¾" | ½" | 10″ | 12″ |
| End Mill Tapered Foam Cutting Tool | ¾" | ¼" | 10″ | 12″ |
| End Mill Tapered Foam Cutting Tool | ¾" | ½" | 10″ | 12″ |
Available FROGTools™ Sheet Goods
| FROG # | KEYWORD DESCRIPTORS | TYPE | SHANK | DIAMETER | CUTTING LENGTH | OVERALL LENGTH |
| --- | --- | --- | --- | --- | --- | --- |
| FT10062 | 3-Flute, Up-Cut Tapered Ball Mill | Tapered Ball Mill | ¼" | 1/32″ | 1″ | 3″ |
| FT10064 | .0108″ Tip, 30°, Engraver | Vbit | ¼" | ¼" | 0.413″ | 2″ |
| FT10058 | 2-Flute, Mortise Compression, End Mill | End Mill – Compression | ¼" | ¼" | 1″ | 2 ½" |
| FT10054 | 2-Flute, 90° Vbit | Vbit | ½" | 1 ¼" | 9/16″ | 2 ½" |
| FT10060 | 4-Flute, Surfacing, Flycutter | Flycutter | ½" | 1 ½" | ½" | 2 ¼" |
| FT10056 | 1-Flute, Down-Cut, End Mill | End Mill | ¼" | ¼" | 1″ | 2 ½" |
| FT10059 | 1-Flute, Down-Cut, End Mill | End Mill | ¼" | 1/8″ | ½" | 2″ |
| FT10061 | 2-Flute, Down-Cut, End Mill | End Mill | ¼" | 1/8″ | 13/16″ | 2 ½" |
| FT10063 | 2-Flute, Down-Cut, End Mill | End Mill | ¼" | ¼" | 2″ | 2 ½" |
| FT10057 | 2-Flute, Down-Cut, End Mill | End Mill | ½" | ½" | 1 ¼" | 3″ |
| FT10065 | 2-Flute, Up-Cut, Ball Nose | Ball Nose Mill | ¼" | 1/8″ | ½" | 2″ |
| FT10055 | 2-Flute, Up-Cut, Ball Nose | Ball Nose Mill | ¼" | ¼" | 1″ | 2 ½" |
SEND ME
FROG
TOOLS™


Product Sheet