Incorporated in 1989, Architectural Cast Stone is one of the preeminent precast and cast stone producers within the US. With an impressive portfolio of projects and products, ACS is known for their dedication to quality and the rich wealth of experience that their team brings to even the most complex building challenges.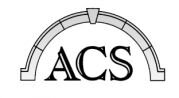 Location: Chicago, IL, USA
COMMITMENT TO QUALITY CRAFTSMANSHIP
ACS has always defined itself through its commitment to quality craftsmanship, and is dedicated to using the best and most innovative technology available in order to meet the challenging demands of modern architects and designers. ACS partnered with Streamline Automation as a means of both streamlining their mold making processes, as well as gaining the ability to complete a range of projects in-house that would have been impossible using traditional manual techniques. The result: faster throughput, winning bids of major projects, and jaw-dropping in-house custom work.