PORTABLE 3D SCANNING SYSTEM
Translate any physical object into an accurate 3D digital scan that can be perfectly replicated or enlarged with this portable scanning system.
BY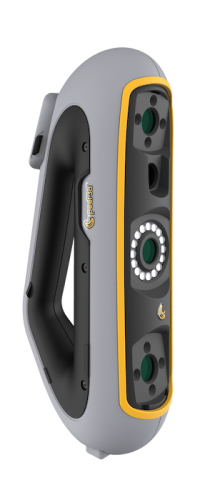 Key Features
Using advanced white light technology, FROGScan™ Flash - Peel 3 is able to capture a digital 3D scan in seconds and in color. It is offered as a standalone, portable solution that can be easily transported and set-up when and where required.

Once complete, the scanned file can be edited and prepared for production using FROGWare™ software, and then passed to FROGMill™ for accurate replication or enlargement. Let FROGScan™ Flash - Peel 3 expand your capabilities and grow your product line!
FROGScan™ Flash -Peel 3 uses white light technology that captures objects in matter of seconds.
FROGScan™ Flash – Peel 3 handheld 3D scanner is a standalone system that can easily be transported to wherever it's needed.
FROGScan™ Flash – Peel 3 can generate scans with up to 100-micron accuracy and it is built to withstand heavy use in an industrial environment. It allows for seamless capture of high-quality geometry and colors simultaneously.
In addition to its powerful 3D data acquisition capabilities, FROGScan™ Flash – Peel 3 includes 3D scanning software offering post-processing capabilities like scan alignment and merging.
FROGScan™ Flash – Peel 3 automatically aligns and realigns 3D scan data using self-positioning technology. Pause and resume scans with no issues while FROGScan™ Flash – Peel 3 automatically finds its last scanned area.
Learn to use FROGScan™ Flash – Peel 3 in under 2 minutes with its point and shoot technology.
FROGScan™ Flash – Peel 3 has been designed to work seamlessly with other FROG3D® components, eliminating the hassles that come with non-integrated components.
Comprehensive Training and Support
FROG3D® products are backed with second-to-none training programs and technical support to get you up and running quickly.
SEND ME
FROG
SCAN™ Flash




PEEL 3

Product Sheet