Not only do we offer our top-of-the-line CNC automation machines to our clients, but we also use them ourselves to build orders that our clients request us to do! Alvin's Jazz Club commissioned us to produce this flashy entrance piece. We were tasked with creating a 3D bronze rendition of an alto saxophone along with their club banner to be placed in front of the entrance. As always, we treat all of our client's requests with urgency and theirs was especially time-constrained. With a short time to turn over our project, we set out to bring our team together for a collective effort while ensuring no loss of quality from start to finish.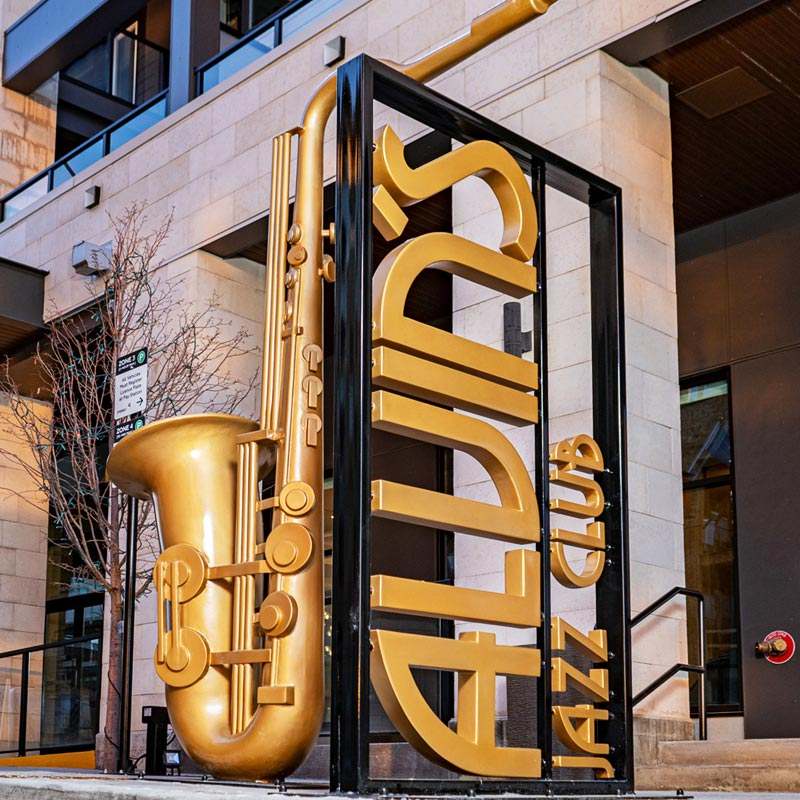 We opted to use a combination of foam and metal elements as foam is easy to produce but needs extra support from hard beams. Metal was used for parts like the keys of the saxophone, key posts, and guards around the club banner. Metallic posts were also used to mount to the base plate which elevated the 3D piece and provided stabilization to the entire structure.
We used many of our machines for this job. First, we looked to cut out blocks for our saxophone parts in foam with FROGWire™. The hot wire foam cutter is highly efficient and slices smoothly when cutting large starting materials into small, workable blocks. To add detail to our small blocks, we used our 4-axis CNC foam carver router, the FROGMill™. Milling machines can be easily coded to automate all the processes, leaving us to immediately start our detailing of the metallic parts.
Before the metallic pieces are attached to finish our construction, we must apply a finish to our foam. By priming the foam surface and coating it with a protective layer, it allows for the sealing of all surface pores of the foam, preparing it for final treatment. Then it is time for sanding and more priming to generate the smooth texture worthy of a top coat finish. The top coat is applied with FROGSkin™, FROG3D®'s industrial strength plural component electric spray system with which a thick coating of urethane is applied evenly to the 3D saxophone assembly as well as the letters themselves. The metallic look is classic and eye-catching, allowing for easy attraction from all passerby's.
As it is an outside display, the bell of the saxophone was not hollowed out but remained closed. We purposely chose to use a slight dip in the bell to prevent any rain or snow from collecting on the piece itself.
If you have questions or are curious about Streamline Automation's other projects, feel free to check out our website for more unique and extravagant pieces that were created by our clients. If you're looking to start your own project and are looking for tools and equipment, we're more than glad to help point you in the right direction in regards to materials and systems that will benefit you the most. Work with us today!